Are you a fan of the rich, aromatic flavors of Pakistani cuisine? If so, you may be familiar with the importance of ghee, a staple ingredient that adds depth and richness to traditional dishes. In this article, we will delve into the fascinating world of ghee and explore its price in Pakistan.
We will discuss the factors that influence ghee prices, the health benefits associated with consuming quality ghee, and where to find affordable options without compromising on taste or purity.
1 kg Ghee Price List In Pakistan 2023
With the diverse range of ghee brands available in Pakistan, you can choose the one that suits your preferences and budget. By exploring the ghee price list and considering factors such as brand reputation and quality, you can enjoy the authentic flavors of Pakistani cuisine while making an informed purchase decision. Indulge in the culinary delights that ghee brings to your meals and elevate your dining experience to new heights.
Here is a comprehensive list of popular banaspati ghee brands and their prices for 1 kg:
Tullo Banaspati Ghee: Rs. 506 to 560
Habib Banaspati Ghee: Rs. 510 to 515
Kisan Banaspati Ghee: Rs. 510 to 525
Dalda Banaspati Ghee: Rs. 510 to 580
Dilawar Banaspati Ghee: Rs. 510 to 515
Sufi Banaspati Ghee: Rs. 510 to 585
Eva Vtf Banaspati Ghee: Rs. 510 to 580
Shan Banaspati Ghee: Rs. 510 to 530
Kausar Banaspati Ghee: Rs. 510 to 515
Areej Banaspati Ghee: Rs. 510 to 555
Manpasand Banaspati Ghee: Rs. 510 to 515
Golden Sun Banaspati Ghee: Rs. 510 to 515
Sharjah Banaspati Ghee: Rs. 510 to 525
Dalda Ghee Price in Pakistan
Dalda Ghee, a trusted brand known for its quality, offers the following prices:
Dalda Banaspati Ghee (1Kg): Rs. 535
Dalda Banaspati Ghee Tin 2.5Kg: Rs. 1,475
Dalda Ghee 2.5 kg Tin: Rs. 1,136
DALDA CORN OIL 3LTR BOTTLE: Rs. 1,417
Dalda Banaspati Ghee Pouch 1Kg: Rs. 675
DALDA VTF BANASPATI GHEE 1KG 5 PCS: Rs. 2,500
DALDA SUNFLOWER Oil Pouch 1Ltr: Rs. 527
Dalda Cooking Oil 2.5Ltr Tin: Rs. 1,200
Dalda Cooking Oil Pouch 1L 5Pcs Pack: Rs. 2,925
DALDA KALONJI 5 LTR: Rs. 3,099
Kisan Ghee Price in Pakistan
Kisan Ghee, another popular brand, offers the following prices:
Kisan Ghee 1kg Pouch: Rs. 545
Kisan Vegetable Ghee 5 Kg: Rs. 2,710
Kisan Ghee 2.5kg Tin: Rs. 1,180
Kisan Vegetable Ghee 2.5 Liter (bucket): Rs. 1,290
Kisan Ghee 5kg Tin: Rs. 2,270
Kisan Vegetable Ghee 5 Kg (bucket): Rs. 2,525
Kisan Ghee 2.5 kg Balti: Rs. 1,190
Kisan Ghee 5 kg Balti: Rs. 2,665
Kisan Vegetable Ghee – Pack Of 5 (1kg X 5 Pouch): Rs. 2,795
Kisan Ghee 10 kg Balti: Rs. 5,660
Ghee holds a cherished place in Pakistani culture and cuisine. Derived from simmering butter, ghee is renowned for its nutty aroma and smooth texture, making it a versatile ingredient in a wide array of dishes, including roti, curry, and biryani. The delightful taste and aroma of ghee can transform an ordinary meal into an extraordinary culinary experience, capturing the essence of Pakistani cuisine.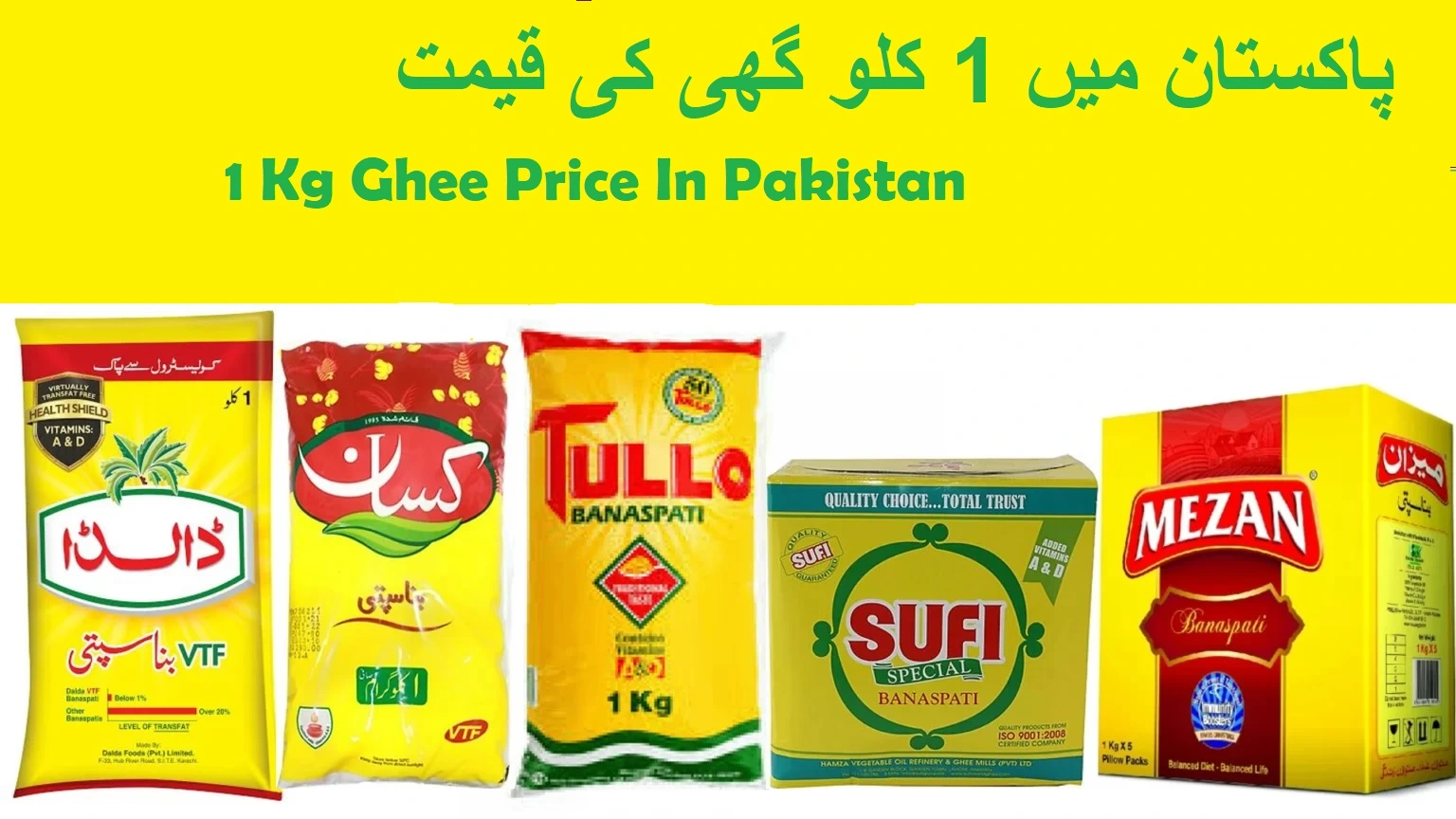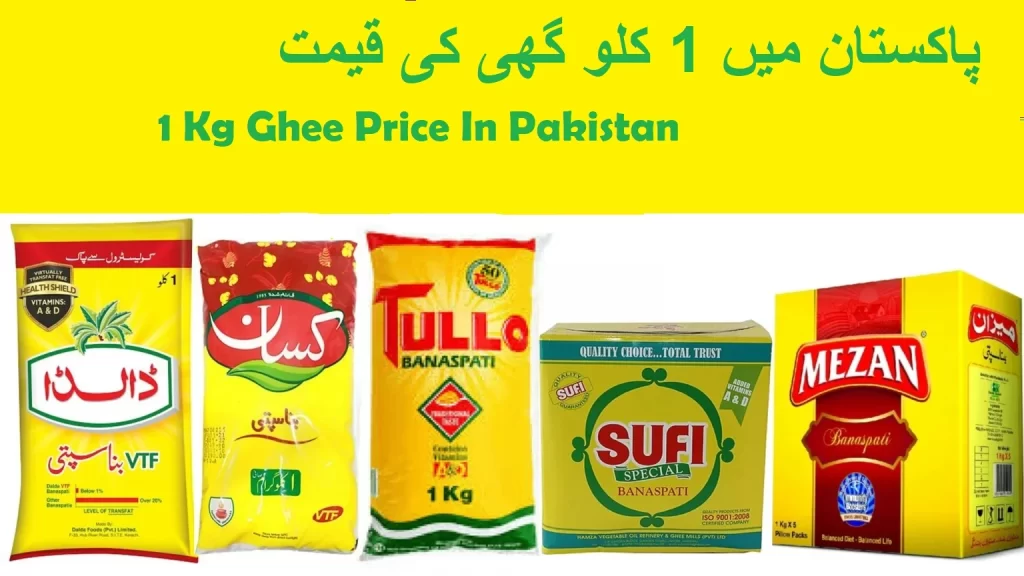 As an informed consumer, you may wonder how ghee prices vary across different brands and products in Pakistan. The cost of ghee is influenced by several factors, including the brand reputation, production process, sourcing of ingredients, and packaging. It is important to strike a balance between price and quality to ensure you're getting the best value for your money.
When it comes to purchasing ghee, selecting a trusted brand is crucial. Brands like Dalda have long been synonymous with quality ghee in Pakistan. These brands have established themselves as reliable purveyors of pure and authentic ghee, making them a preferred choice for consumers seeking both taste and assurance.
Beyond its culinary delights, ghee offers a range of health benefits. Contrary to common misconceptions, consuming high-quality ghee in moderation can contribute positively to your well-being. Ghee is rich in essential fatty acids, fat-soluble vitamins, and antioxidants. It aids digestion, strengthens the heart, and boosts overall vitality. However, it's important to consult with healthcare professionals for personalized advice.
For those seeking affordable ghee options without compromising quality, the market in Pakistan offers a range of choices. Local supermarkets and grocery stores often stock various brands and pack sizes to cater to diverse consumer needs. Additionally, online shopping platforms have made it even more convenient to explore and compare ghee prices from the comfort of your home.
Frequently Asked Questions
Here are some of questions from Pakistan consumers about ghee

Q1: Does ghee have cholesterol?

Yes, ghee does contain cholesterol. However, moderate consumption and a balanced diet can be part of a healthy lifestyle. It is advisable to consult with a healthcare professional for personalized guidance.
Q2: Can ghee be used as a substitute for cooking oil?

Absolutely! Ghee's high smoke point makes it ideal for cooking at higher temperatures. Its rich flavor can enhance the taste of various dishes, making it a delightful alternative to cooking oil.
Q3: Is desi ghee better than other types of ghee?

Desi ghee, made from cow's milk, holds cultural significance and is favored by many for its distinct taste. However, different types of ghee have their unique qualities, and the choice ultimately depends on personal preference.
Conclusion

Ghee, an integral part of Pakistani cuisine, combines taste, tradition, and nutrition in a single ingredient. By understanding the factors influencing ghee prices, exploring trusted brands, and embracing its health benefits, you can savor the delights of Pakistani cuisine with confidence. Whether you're searching for premium options or affordable alternatives, the diverse market in Pakistan ensures there is a ghee option to suit every palate and budget. Embrace the culinary wonders of ghee, and let your taste buds embark on a truly authentic and flavorful journey.