It is important to save our page listed the Bridal Furniture Price In Pakistan 2023 Set Package Chiniot Lahore Karachi. In Asian countries specially Pakistan Dowry system is very popular tradition in Muslim and non-Muslim families. According to our research Jehaiz or Dowry is giving by Bridal from her family member. In Dowry system Bridal furniture is most important items. Here we are sharing Bridal Furniture Price In Pakistan 2023 Set Package Chiniot Lahore Karachi and other cities complete details. We are sharing Chiniot furniture complete details because worldwide Pakistan City Chiniot furniture is most popular furniture items. In Bridal Furniture Bed, Sofa, Dining table, Dining Chair, wood iron stand, Showcase, Almari, Dressing table, Room Chair and Room table are few numbers of basic items are compulsory.
In Pakistan different furniture markets are available for selling furniture item as brand product. Yes this is a reality Brands furniture is very expensive as compare local market Bridal Furniture Price In Pakistan 2023.
Bridal Furniture Price!
Here we want to mention all quality furniture best place is Chiniot market in Pakistan. This is a fact Faisalabad, Rawalpindi, Islamabad and Lahore different Furniture market is giving Bridal Furniture but remember these all markets are purchasing furniture from Pakistan City Chiniot.
Tips before Bridal Furniture Purchasing:
Dry wood furniture is a best for home, officer and especially Bridal Furniture purchasing. If Bridal Furniture wood is not dry then after small time period you can see your furniture will break in different place in lining shape because after time period wood will dry and siring. You can see dry wood Bridal Furniture without paint in Chiniot or other cities market. This dry furniture without paint is calling KORA in local Chiniot furniture market wording.
Tulip Double Bed price is starting from 35000
Nova Double Bed price is starting form 25000
Kosmo Double Bed price is starting from 32,000
Vettoni Bed set included dressing table and dressing chair price is starting from 55,000.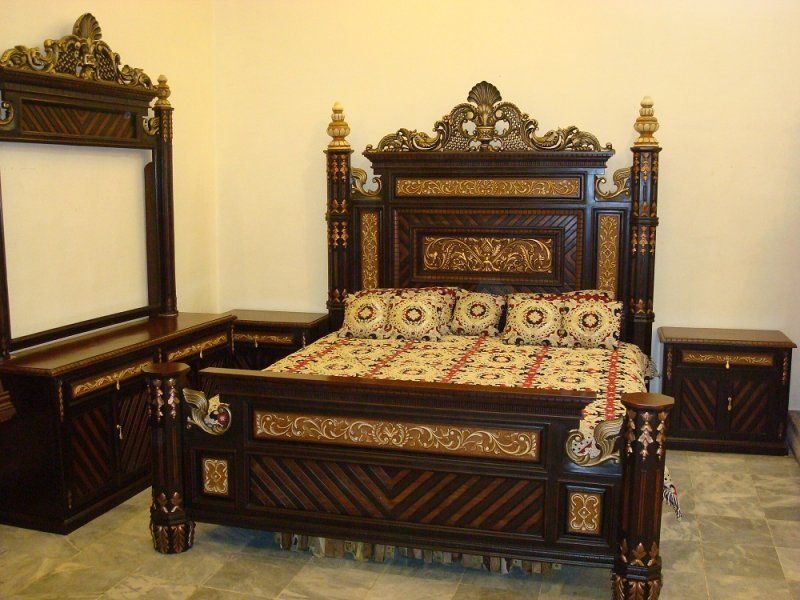 Chiniot Bridal Furniture price in Pakistan 2023:
Chiniot Bridal Furniture is available with different price according to quality. You will contact with Mr.Amjad 03337079888 for Chiniot market current Bridal Furniture design and price. According to our source Chiniot bridal furniture bed price is starting from 120000 and you can easily purchase Chiniot bed complete set from this price.
Chiniot Dining table price is 60K to 90K.
Chiniot Wood food Tralee price is 10K to 35k.
Chiniot Sofa set price is starting from 40K.
Chiniot Dress wood Almari price is 15K to 30K.
Chiniot Wood iron table and box price is 15k to 20K.
Chiniot Diwan price 20K.
Chiniot bed room two chair price is 22K.
Chiniot Bed room small coffe table price is 8K.
Now you can easily understand Bridal Furniture Price In Pakistan 2023 Set Package Chiniot Lahore Karachi. Bridal Furniture Price chiniot furniture design 202 2 with prices will high or low according to your quality.