Welcome to pricesurvey.pk, your trusted source for reliable information on Osaka batteries and their prices in Pakistan. We understand the importance of finding a high-quality battery that not only fits your budget but also delivers long-lasting performance. In this article, we will explore the Osaka battery range, discuss their prices in Pakistan, and highlight the key features that make them a popular choice among consumers. Let's dive in!
Why Choose Osaka Batteries In Pakistan' enviornment?
When it comes to powering your vehicles, solar inverters, motorcycles, or even tractors, Osaka batteries have built a reputation for their exceptional quality and reliability. With a commitment to delivering superior performance, Osaka batteries are designed to withstand the diverse and demanding conditions of Pakistan's climate. Their cutting-edge technology ensures efficient power supply, whether it's for personal or commercial use.
Osaka Battery Price Range In PKR
One of the factors that make Osaka batteries a preferred choice is their affordability without compromising on quality. The price range of Osaka batteries in Pakistan varies based on factors such as battery type, capacity, and intended use. Whether you need a battery for your car, motorcycle, solar inverter, or even a heavy-duty vehicle like a tractor, Osaka offers a wide range of options to suit different budgets and requirements. So, get Osaka Price List 2023
Here we are going to discuss the Osaka battery price in Pakistan Tubular 50, 120, 135, 200, 250, 23 Plates, Price List. There are two types of batteries that are available in the market and find the difference between them. In the country of Pakistan, very short amount of sharks in the field of batteries.no major compition in the market of battries but requires for so many purposes.
Only few companies are working but with the less advertisement to solve the problems citizens. OSAKA is one of best companies that are working to manufacture the battries in Pakistan with the great deal of various kind of batteries and other long list of products. They introduce batteries for so many purposes like motorcycle, cars, UPS, automobile, maintenance – free batteries  which is recommendable in such short period. One is lead-acid batteries: in this battery we have to put acidic water to charge because of dry batteries cell and need more attention to work properly. These types of batteries are mostly used in home for UPS and in vehicles.
Second is a maintenance free battery: they don't need any acidic cushion to work in good manner. They filled with electrolytes and work for long term.
osaka battery price in pakistan Tubular 50, 120, 135, 200, 250, 23 Plates, Price List will be here under
OSKA BATTERY SUPER 50 AMPERE 12 VOLTS PRICE IS IN 5,200
OSAKA BATTERY 9 PLATES 12 VOLTS BATTERY PRICE IS IN 6246
OSAKA BATTERY CR 65 L 11 PLATES 12 VOLTS BATTERY PRICE IS IN  6,538
OSAKA BATTERY S100+/S100A+11 PLATES 12 VOLTS ABTTERY 8,890
OSAKA PLATINUM T-125 S 12 VOLT 100 AH 15 PLATES BATTERY PRICES IS IN 13,350
OSAKA PLATINUM P-250 S – 12VOLT 180 AH- 27 PLATES PRICE IS IN 24,999
OSAKA PLATINUM P-175 S BATTERY 19 PLATES PRICE IS IN  25,300
OSAKA BATTERY P180 S 130 AMPERE 21 PLATES 25,500
OSAKA BATTERY P180 S 130 AMPERE 21 PLATES PRICE ISI  25,550
OSAKA PLATINUM P-140 S BATTERY 17 PLATES PRICE IS IN 28,390
OSAKA BATTERY P 210 S 135 AMPEREE 23 PLATES PRICE IS IN 31,300
OSAKA BATTERY P210 S 135 amhere 23 PLATES PRICE IS IN  31,400
OSAKA PLATINUM P-210 S BATTERY 155 AH PRICE IS IN 32,480
OSAKA PLATINUM P-225 S BATTERY 175 AH PRICE IS IN 31,680
OSAKA PLATINUM P-180 S BATTERY 21 PLATES 130 AH PRICE IS IN     33,490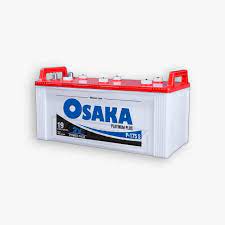 OSAKA TA- 1500 5PL DEEP CYCLE LEAD ACID ABTTERY PRICE IS IN 34,940
OSAKA IPS GOLD 2000 BATTERY 170 AH PRICE IS IN  30,870
OSAKA PLATINUM P-250 S BATTERY 180 AH PRICE IS IN  37,500
OSAKA PLATINUM P-260 S 180 AH PRICE IS IN 38,400
OSAKA TA-1800 5PL DEEP CYCLE LEAD ACID PRICE IS IN  45,000
OSAKA PLATINIUM P-270 S BATTERY 200 AH PRICE IS IN  45,510
OSAKA Platininum p-290 Z battery 215 AH PRICE IN 47,320
OSAKA TA-2500 7PL Deep Cycle Lead acid Battery Price in  52 420
OSAKA TA-3000 9PL DEEP CYCLE LEAD ACID BATTERY IS IN  66,390
Factors Affecting Osaka Battery Prices All Over Pakistan
Several factors contribute to the variation in Osaka battery prices in Pakistan. The battery's capacity, expressed in ampere-hours (Ah), is a significant determinant of the price. Higher capacity batteries usually come at a slightly higher cost but offer longer backup times and increased performance. Additionally, the type of battery, such as lead-acid or VRLA (Valve Regulated Lead Acid), may also influence the price.
Comparing Osaka Battery Models Available For Pakistani Consumers
Osaka batteries come in various series, each catering to specific needs and applications. The Platinum series, known for its exceptional power and longevity, is a popular choice among vehicle owners. The Silver series offers a reliable and cost-effective solution for motorcycles and small vehicles. By considering your requirements and consulting with experts, you can select the ideal Osaka battery model that aligns with your needs and budget.
Warranty and After-Sales Support For Local residents of Pakistan
Osaka batteries are backed by a solid warranty, providing customers with peace of mind and assurance of their investment. The specific warranty terms may vary depending on the battery model and capacity. It is recommended to check the warranty details at the time of purchase and ensure compliance with the manufacturer's guidelines for maintenance and usage. Additionally, Osaka has a robust network of service centers across Pakistan, providing convenient after-sales support and assistance.
Frequently Asked Questions By Consumers of Osaka Battery
Are Osaka batteries suitable for both personal and commercial vehicles?
Absolutely! Osaka batteries are designed to meet the diverse needs of both personal and commercial vehicles. They offer reliable performance and long-lasting power, making them a suitable choice for a wide range of applications.
Can Osaka batteries be used with solar inverters?
Yes, Osaka batteries are compatible with solar inverters. They provide a stable and efficient power source for residential and commercial solar energy systems, ensuring uninterrupted power supply during periods of low sunlight.
How can I ensure the longevity of my Osaka battery?
To maximize the lifespan of your Osaka battery, it is essential to follow proper maintenance practices. Regularly check the battery's electrolyte levels, clean the terminals, and ensure a secure connection. Additionally, avoid overcharging or deep discharging the battery, as it can affect its performance and lifespan.
Conclusion
Choosing the right battery is crucial to ensure a reliable and uninterrupted power supply for your vehicles or equipment. Osaka batteries offer a winning combination of quality, performance, and affordability, making them a preferred choice in the Pakistani market. With their diverse range of models, backed by solid warranties and excellent after-sales support, Osaka batteries are trusted by individuals and businesses alike. Invest in an Osaka battery today and experience the power to fuel your journey with confidence.
Remember, when it comes to Osaka batteries, pricesurvey.pk is your go-to resource for accurate information and competitive pricing. Trust us to provide you with the latest updates on Osaka battery prices in Pakistan and other valuable insights. Power up with Osaka and embark on a seamless and efficient journey!